Garage Door Maintenance Tips For Homeowners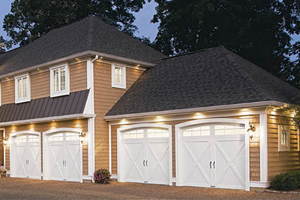 There is no denying the fact that garage doors are the most essential part of every residential and commercial establishment. But, unfortunately, it is the most overlooked part as well. Yes, people don't pay much heed towards its maintenance and repair till it shows some serious problem. The maintenance of a garage door is the responsibility of every homeowner, after all it keeps your home and belongings safe and secure around the clock.
Regular care and maintenance is necessary to ensure that your door works smoothly and reliably for years to come. Homeowners can check their doors periodically to ensure that all the components of the door are in a tip top shape. Here are some of the steps that every homeowner should take to maintain the optimal performance of their doors.
Garage Door Inspection – The inspection begins with the outer condition of the door. If you have a wooden door, check it for any water damage. Any dent or damage should be addressed as soon as possible to avoid expensive repairs down the line. For steel doors, check for rusted areas and paint them if necessary. Rinse your door in a sunny day and let it dry well.
Inspect the Rollers – It is because of the rollers that your door opens and closes with ease. So, you need to ensure that they are in a good working condition. Replace any damaged or worn out rollers immediately. Use high quality lubricant to lubricate the metal rollers for smooth operation.
Check the Hinges & Loose Bolts – Carefully check the hinges and loose bolts. You can clean the bearings by soaking them in a mineral spirit for some time. Clean them one by one to avoid further issues.
Inspect the Cables & Springs – Cables and springs are the most important elements of a door. So, they must be inspected on a periodic basis. It is advisable to call a professional for the repair or replacement of the springs and cables. They work under a lot of pressure and should be handled by a professional only.
Weather Stripping of the Door – If you want to keep your garage door more energy-efficient, you should ensure that the weather stripping are properly installed and well-maintained. Install the weather stripping after measuring the length and breadth of the door. Make sure you buy good quality weather stripping.
These simple tips will keep your door in its proper working condition for years to come. If you are looking for a professional garage door service, then look no further than Hall Garage Doors. Our professionals in Toronto are equipped with the right tools and products required to install, repair and maintain any make and model of garage door efficiently.
Contact our technicians today to know more about our services.