Is your garage door cable damaged? Are you looking for a professional garage door cable replacement service in Toronto? Is yes, then look no further than Hall Garage Doors Toronto. Our technicians have undergone a rigorous training designed to teach them how to assess, install and replace the door cables. We make sure to complete the cable repair or replacement job in a timely and professional manner.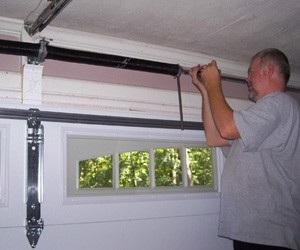 Garage door cables are one of the primary parts of a door as they support the door weight and don't let it fall upon you and your belongings. Remember, cables perform under a lot of pressure, so it is ideal to contact a professional for garage door cable repair or replacement services in Toronto. We are garage door cable service experts. We are well-aware of the mechanism and functionality of the cables. That's why, we know how to handle them without damaging your door and property.
24/7 Emergency Services
We understand that your cables can trouble you anytime. There is no definite time for cables to fail. That's why, we are available for our customers 24 hours a day and seven days a week. Whenever you experience something fishy with your garage door cable, just give us a call and we will reach there to rectify the issue. We always adhere to the highest standards of safety so that our clients feel confident about our services. You don't have to look at the time or date before calling us, just grab your phone and dial us.
What Makes Us The Best
Around the clock emergency service
Professional and experienced staff
Licensed, insured and bonded
Tailored solutions
Free service quote
Unmatched customer service
Exceptional product qualityGarage door cable experts
Garage door cable experts
Affordable pricing
Hall Garage Doors Toronto is committed to providing top-notch garage door solutions every time you call us. We have built a good reputation in the industry and we strive to maintain that by offering exceptional customer service and door solutions across Toronto. We are not limited to garage door cable replacement services, rather offer a myriad of services including garage door installation, repair and maintenance. Any questions or concerns about your garage door cable – we are here to answer.
Garage door cable repair and replacement experts in Toronto. Call Us