The quality and functionality of your garage door solely depend on its parts. Good quality parts means that your door will function reliably for many years. On the contrary, low quality parts means that you would have to call a professional over and over again to perform the garage door repair job. So, make sure you always use high quality garage door parts while repair or replacement. At Hall Garage Doors Toronto, we offer a complete range of branded garage door parts in Toronto.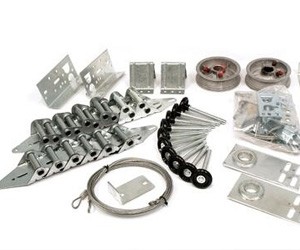 Here you will get high quality parts at affordable prices. Apart from providing genuine door parts, we also help our clients in their installation. Be it the opener, spring, cable or rollers, we can install them all. Since, garage door parts are vital for its functioning and for the security of your home, make sure you visually inspect these parts on a regular basis. If you find any part damaged or worn out, call our professionals immediately. We would reach your place, fully stocked to perform the necessary repair or replacement job.
We offer a wide assortment of garage door parts including:
New Cables
Rollers
Hinges
Struts
Bottom Fixtures
Locks
Slats
Keypads
Remotes
Photo Eyes
Trolley's
Gears
Boards
Tracks
Sections
Seals
Bumpers
Couplings
Drums
Springs
Bearing Plates
Shafts
And More
What Makes Us The Most Sought-After Hall Garage Doors Company in Toronto?
Hall Garage Doors Toronto believes that there is no substitute for quality. If you want to see your garage door performing smoothly for years to come, you need to ensure that all the parts that have been used in it are of high quality. When you come to us, our technicians will aware you about the various garage door parts and their importance. We can also arrange the parts for you that are out of stock. You can ask any question regarding any garage door part. When you know the importance and functioning of a part, then only you will be able to understand the problem associated with that door part.
We have a service van that is equipped with all the necessary garage door parts which helps us perform our job swiftly and professionally. We have a large inventory of parts of various leading brands such as Genie, Chamberlain, Wayne Dalton and many more. No matter what make and model of door part you require, we will bring that to your doorstep. No job is too big or too small for us and we complete our every job with precision.
You just name it and we will bring it. For any make and model of garage door part, you can rely on Hall Garage Doors Toronto.