Why And How To Lubricate Your Garage Door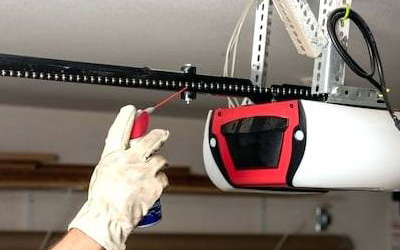 The main reason for lubricating your garage door is to prevent its irritating noise. Due to any structural issue or accidental damage, the garage door springs or other components start to bear with each other. It results in a noisy garage door. Over time, your overhead door some internal components or spring get worn out and start to release the noise. It also indicates for its the worn out parts repair and replacement. When you lubricant your garage door, it stops to sound. But, if you don't provide on-time repair, you may get injured.
Lubricant Benefits
Lubricant prevents garage door necessary parts from getting dry which cause the earlier breakdown. Additionally, it keeps your garage door in working for a longer time.
The metal made garage door often gets jammed during the winter. So, providing the lubricant, you can keep it functional.
Season change or other issues can also make your garage door rusted. Periodically lubrication prevents your garage door getting rusted.
How To Lubricant You Garage Door
Before providing lubricants to your garage door, you must keep it clean. If you lubricant to unclean components, it will not be effective. So, clean all the parts of your garage door which you want to give lubricant.
Garage Door Parts For Lubricants
You must give lubricant to almost all moving parts of your garage door. Because, It's internal components move many times. To keep them functional for as long as possible, you need to pay attention to them. These parts are:
Tracks
Springs
Hinges
Rollers
Locks
After lubricant these parts of your garage door, move them several times. It helps in lubrication each section.
How To Choose The Right Lubricant
Don't use any lubricant for your garage door. You must buy after inspecting its quality. A low-quality lubricant will not be effective even it can affect the functionality of your garage door.
For better help, you can hire the experts at Hall Garage Doors. We provide garage door installation, repair and maintenance services in Toronto at a reasonable cost. Call us today to get 24/7 emergency services.