Looking To Buy a Cheap Garage Door? Get Prepared For The Following Trouble!
It is a known fact that cheap things are cheap because they don't have enough of quality or comfort to offer. This holds true for garage doors also as cheap garage doors no doubt save you a lot of money but are poor in terms of quality. It is actually the quality which differs a good garage door from a bad one.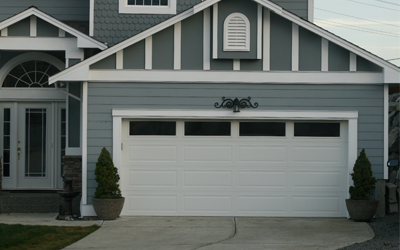 It is essential that you don't take chances with the security of your garage as cheap garage doors are subject to an easy break-in. You might be trying to save a lot of money but may end up getting in a loss, which even can't be traced back!
Why Not To Install a Cheap Garage Door?
Cheap Quality Material & Parts
When you are buying something cheap, you won't be getting anything of a good quality. The material used to construct a cheap garage door is of low quality and hardly provides any strength to the door. Apart from this, it even fails to protect the garage door from any kind of external disturbance such as heat, cold, snowfall etc.
Poor Security
Now, don't expect your garage door to protect your garage from any kind of break-in as it hardly has enough strength to do that. Also, one should get mentally prepared for the per-mature wear and tear of the garage door and its parts. Just think of all the valuables you might have stored inside your garage including your vehicle, what if they all get stolen? Don't save a bit to lose too much!
High Energy Bills
By installing a cheap garage door, you are not only taking chances with its security but also increasing the energy bills. It will hardly be able to prevent the external temperature from coming inside the garage. This will make your HVAC unit to work harder during summers and winters, leading to a high energy bill and that too every single month!
Prone To Injury
Since a cheap garage door lacks in security and safety, it is not safe for your vehicle or any of your family member. The material and parts used for it tends to wear and tear very quickly, making it stop working anytime or even fall down as a result of no auto reverse mechanism. This can lead to injuring your pet, car and any of your family member.
Short Life!
How far do you think a cheap garage door can hold on to itself? This is the biggest dis-advantage of owning a cheap garage door as they just don't last! Over and again, you will be required to buy a new garage door and pay for its installation and frequent repairs thereafter!
Need Professional Advice?
If you are looking to buy a new garage door and can't decide which one to choose for your home, feel free to contact Hall Garage Doors in Toronto. Our experienced professionals will guide you in selecting the best garage door for your home, having high quality feature, security and also which gets fit into your budget.