3 Common Problems With Commercial Garage Doors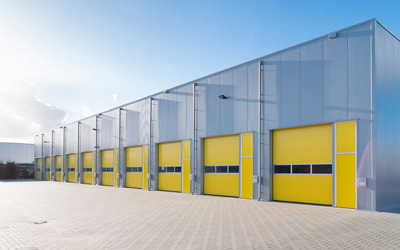 A well maintained commercial garage door is vital to keep your facility secure. The unfortunate time when they are not working correctly can cause problems to the users. Unfortunately, if you delay repairing these issues, you may get physical injury or damage to your property.
Here is a look at a few problems that arise with commercial overhead door and how we can deal with them.
Damaged Torsion Spring, Rollers & Cables
Torsion spring, rollers and cables play a significant role in operating your door. Due to every day wear & tear and effects of dust and debris, these parts can damage earlier. If you notice your garage door is squeaking, immediately check and replace the worn out parts.
Improper Alignment
Overhead doors run on metal tracks, and when these tracks get out of alignment, they create problems when opening or closing your door. Sometimes, the improper alignment means replacement of entire track of your overhead door.
Misaligned Photo Eye
However, the photo eye sensors are made for safe operations of your door, but they can create problems ahead. For example, the eye sensor if assume the path is obstructed, it will not get close until you repair it.
Appropriate Solutions
Prevention is better than cure. So, you should keep your garage door well maintained. For this follow the below tips:
Lubricate each part of your door
Avoid DIY repair techniques
Give periodic maintenance to your overhead door
On noticing rust, worn out part and any other issues immediately call experts
At Hall Garage Doors, we specialize in providing residential & commercial garage door services in Toronto. Reach us to get 24/7 emergency and same day service guarantee.