6 Signs that Indicate your Garage Door Needs Repairs
Garage door is a part of well designed home and garage. If you are living in a country like Canada, a home without garage, and a garage without a door sounds to be terrific. If you are installing a door to your garage, do go with the branded and the best one in the city. Not only a good design but good quality also matter.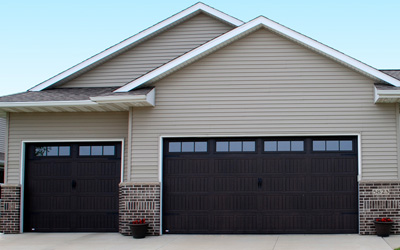 Though every garage door, cheap or costly, needs a time to time repair to work in promised conditions. If you notice any trouble in opening or closing your garage door, it signifies its time to get it repaired to avoid any major problems.
Signs that shows its time for repair now:
Noisy Doors
If you observe any unfamiliar sound, while opening and closing your garage door, it's a sure sign which points that it needs a lubrication and brushing. Noisy doors can be annoying for you as they will cause disturbance to yours neighbors too. If it is one of the problems you are facing, don't avoid it.
Broken Cables
Cables in garage door are there to lift it upwards. If you find any of the cables broken, don't just take it easy. Though it might not be causing any problem till now, but there are huge chances it will cause you a serious trouble in coming days. To avoid any difficulty or an accident, get it repaired soon.
Remote not working
If your remote is not working, there is need to call your maintenance engineer. He'll check out what the actual problem is. Whether the remote has any defect, or your door cables are not providing proper signals. Get it fixed soon to save yourself from traveling in public transports.
Broken Glass
Many of us will not consider it a serious problem, though it is. If glasses of your garage door are broken, it is regarded as a safety and security problem. This is considered a call for thieves and nuisance creators to take an advantage of your door situation. Any harm can be caused to your garage or car if glass is broken. Don't wait for an incident to happen.
Frozen Doors
This a problem everyone of us do face regularly. On coldest days of the season, doors usually get stuck to garage floor. If there is a plenty of icy connection between your door and floor, it cannot be breached by repeatedly pressing the open button. Just make the ice melt with blow dryers or sprinkle some salt to make ice melt. Do call your service provider, if the door is stuck too badly. More use of heat blowers can damage your door.
Worn rollers
If the rollers of your garage door are worn up and cracked, get them replaced. Worn up rollers can reduce the grip and hold of the door, when lifted upwards. To maintain better grip, keep inspecting them on monthly basis.