3 Easy Garage Door Repair Tips & Tricks
With usage and time, a garage door tends to exhibit several repair signs which can degrade the door performance. To protect your investment from expensive repairs and replacements, it's advised to lubricate and maintain an overhead door regularly. A troubled or stuck door can really disappoint a homeowner along with costing him several bucks. Here are some tips that should be followed to ensure a smooth working automatic door for years to come.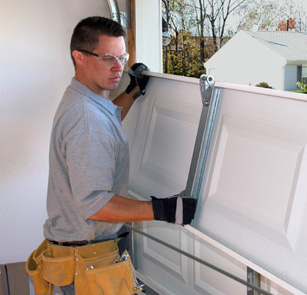 When The Power Goes Out: Almost all overhead doors are enabled with an automatic feature that allows them to operate using electricity only. These doors offer a bit inconvenience when there is no power source or electricity. In case, the power is out, try operating the door with a pulley mechanism. For this, just pull the cord with a red handle and dangle it down to enable the manual door operation. Once the pulley is pulled, the door will open up.
For Frozen Garage Doors: In cold weather, the door components are prone to become stiff and stuck. This stiffness is often witnessed by a roller or an opener. Trying to operate an overhead door in stiff conditions can compel its components to damage. To deal with a garage door opener in the cold weather, consider adjusting the pressure adjustments for raising and lowering to ensure a smooth mechanism.
For A Sagging Garage Door: Wooden overhead doors are more susceptible to sags, especially the older ones. These sags make them difficult to operate. The common reason behind a sagging door is reckless usage and misaligned elements. If you think that your old overhead door has become a little saggy, square it up using tension rods. Place the rods diagonally from top to bottom to prevent further sagging and tilting of the door components, especially the panels.
These are some common garage door issues and the ways to deal with them. Since these doors are quite heavy and large, it is better advised to hire professionals for all sorts of overhead door repairs. If you are looking for a reliable garage door repair company in Toronto, feel free to consult our door repair technicians at Hall Garage Doors.